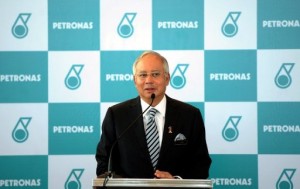 Malaysian premier Najib Razak says his country is willing to send peacekeepers to help "de-escalate tension" in Bahrain while backing Saudi Arabia's role in resolving regional unrest.
Bahraini authorities in the kingdom ruled by a Sunni dynasty have attempted to curb violent protests in recent months inspired by uprisings that toppled Egypt's and Tunisia's presidents.
"Malaysia stands ready to contribute peacekeepers to the Kingdoam of Bahrain, if invited to do so by the Bahraini leadership," Najib said in a statement late Friday following a meeting with Saudi Arabian monarch King Abdullah in Riyadh.
"Malaysia will consider it a great honour to offer assistance in this noble effort."
He said Malaysia, a Sunni Muslim-majority nation, supported the national dialogue process launched by Crown Prince Salman bin Hamad Al-Khalifa in a bid to "de-escalate tension in the country."
On March 16, security forces drove mostly Shiite protesters out of central Manama's Pearl Square and demolished their camp after King Hamad declared a state of emergency.
The King also called in Saudi-led Gulf troops to boost his security force.
Bahrain authorities said 24 people, including four policemen, were killed in the unrest with the kingdom coming under strong criticism from international human rights organisations for its heavy-handed crackdown.